Spiritual Development
24 September 2021 @ 7:00 pm

-

8:00 pm

£10
The Tarot is alive in Essex.
The Essex Spiritual Centre Online And Physical.
For us, Our cards are not possessions, but friends.  We do not "use" them, we partner with them.
It is possible to memorise a few meanings for each card, and use those to interpret the cards.  Or you can form deep connections to the cards, so that they speak to you during readings.  They teach you their ways in your daily life.  They can inspire you and bring their strengths to you, walking side by side with you through your spiritual journey.  By the end of the course you will not be "interpreting" the cards – you will know them deeply.
Course Contents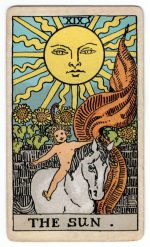 The course consists of three strands; practical reading techniques, in-depth knowledge of the Tarot itself, and personal development. These strands consist of the following modules:
Background to the Tarot – Evolution of the Tarot, Major Decks (eg: Waite, Thoth), The Golden Dawn, Impact of Modern Psychoanalysis
Structure & Dynamics of the Deck – Overview (The Major and Minor Arcana, Court Cards, Number Cards, The Suits), The Major Arcana in Depth, The Minor Arcana in Depth, the Energetic Interactions within the Deck
Card Layouts & Spreads – The Major Layouts, Obscure and Special-Purpose Layouts
Knowledge Systems Inherent in the Cards – Kabbalah, Numerology, Astrology, Mythology
Developing Your Relationship with the Tarot – Connecting with the Cards, Tarot Meditations, the Living Tarot, Becoming a "Reader"
Psychic Development – Introductory Metaphysics, Psychic Protection, Intuition and Channeling, Psychic Cleansing.